I guess Tom and I are going to help out with the marriage classes being sponsored by our church. I am not one hundred percent in favor of this idea. Of course I know I have a wonderful marriage. I know that but the main reason for this is that Tom is such a wonderful man. I have no advice for young women trying to run a house hold, trying to combine children and a career.
But Tom wants to do it and … now you guy said I could brag here. When they gave a survey to church members between the ages of 18 and 35 the minister said that Tom and I were requested to participate more than any other couple and he said that every woman who turned one in had asked for us! I can't pretend to say that that did not make my head swell but it has not eased my worry.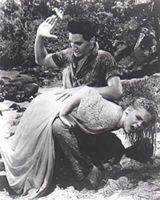 We shall see how it goes but if I get uncomfortable I may bail on them! I know we do have an old fashion marriage and I would not want anything else but I don't want to appear 'quaint' or simply old fashion. I just don't know about all this. Tom may just have to go without me.